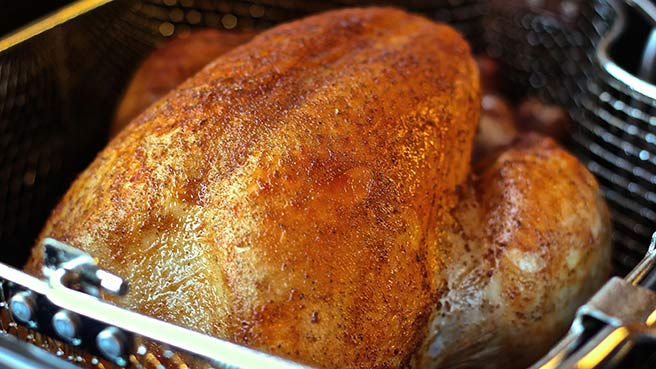 During the Jewish holiday of Passover, many households serve turkey recipes. However, since the dietary rules for Passover do not permit leavened products such as bread or cornbread, traditional cooks substitute matzah (matzoh), which is available in most supermarkets year 'round. Matzah's texture makes an excellent stuffing, and you definitely do not need to be Jewish to enjoy it during the Thanksgiving holiday.
Ingredients:
1 (10 – 12-pound) turkey
Brine
1 large can of low-sodium chicken broth
White wine
Flour
Butter or parve (non-dairy) margarine
Matzah stuffing
Brine Ingredients:
1 cup kosher salt
1 cup brown sugar
2 oranges, diced
2 lemons, quartered
6 sprigs thyme
4 sprigs rosemary
Brining Directions:
To make the brining solution, dissolve the salt and sugar in 2 gallons of cold water in a non-reactive container (such as a clean bucket or large stockpot, or a clean, heavy-duty, food-grade plastic storage bag.)
Add the oranges, lemons, thyme, and rosemary.
If you have a larger turkey and need more brine, use 1/2 cup salt and 1/2 cup brown sugar for every gallon of water.
Remove the neck, giblets, and liver from the cavity of the turkey and reserve for the gravy.
Rinse the turkey inside and out under cold running water.
Soak the turkey in the brine, covered and refrigerated up to 24 hours.
Matzah Stuffing Ingredients:
1 (12-14 ounce) box of matzah
3 large onions, sliced thin
6 garlic cloves, finely minced
vegetable oil, enough to sauté onions
1 (14 ½ ounce) can chicken broth
1 teaspoon sugar
1 cup of slivered, blanched almonds
2 carrots, peeled and finely diced
3 stalks of celery, fined diced
1 apple, peeled and grated
pepper, to taste
½ teaspoon poultry seasoning
onion powder to taste
garlic salt to taste
Stuffing Directions:
1. Crush the matzah into small pieces.
2. Sauté the onions in oil till transparent; add the minced garlic and stir briefly.
3. Add carrots, celery and apples and cook until they are softened.
4. Add remaining ingredients.
5. Mix together and taste for seasoning.
6. If the stuffing seems too dry, moisten it with more broth.
7. Stuff turkey loosely.
8. Any leftover stuffing can be cooked along-side turkey in a casserole dish.
9. When basting the turkey, add some of the pan juices to any of the stuffing cooked in the casserole dish.
Roasting instructions:
1. Preheat the oven to 325° F.
2. Remove the turkey from the brine and rinse well under cold running water.
3. Pat dry with paper towels inside and out.
4. Place turkey, breast side down, in a large, heavy roasting pan, and rub on all sides with butter or margarine
5. Season the turkey lightly inside and out with salt and pepper.
6. Stuff the turkey with the matzah stuffing.
7. Loosely tie the drumsticks together with kitchen twine.
8. Roast the turkey, uncovered, breast side down for 1 hour. Remove from the oven, turn and baste with ½ cup chicken stock.
9. Continue roasting with the breast side up until an instant-read meat thermometer registers 165° F. when inserted into the largest section of thigh, about 2 ¾ to 3 hours total cooking time.
10. Baste the turkey once every hour with ½ to ¾ cup chicken stock.
11. Remove from the oven and place on a platter. Cover with aluminum foil and let the turkey rest for 20 minutes before carving.
For the pan gravy:
Pour the reserved turkey pan juices into a glass-measuring cup and skim off the fat.
Place the roasting pan on two stovetop burners over medium heat add the pan juices and 1 cup broth and some white wine to the pan, and deglaze the pan, stirring to scrape any brown bits from the bottom of the pan.
Add the remaining 3 cups of broth and bring to a simmer, then transfer to a measuring cup.
In a large heavy saucepan, melt the butter or margarine over medium high heat.
Stir in the flour and cook, stirring constantly, to make a light roux.
Add the hot stock, whisking constantly, then simmer until thickened.
Add the reserved neck meat and chopped giblets to the pan and adjust the seasoning with salt and black pepper.
Pour into a gravy boat and serve.
Tags:
brined turkey recipe
,
jewish food
,
jewish fusion
,
jewish recipes
,
rabbi michael sternfield
,
thanksgiving
,
thanksgiving turkey recipe
,
turkey recipes